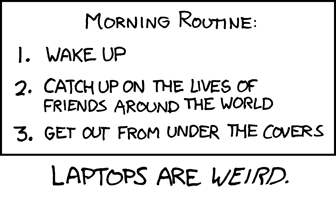 So… I've actually been thinking of my morning routine for a few weeks now…. and I decided to share it (along with my whole day) with you. (aw, yay. .. right?)
Weekdays…
6:13a – alarm goes off, I'm either out of bed already, or debating whether to pull my comforter over my head…
Shower — hot, steamy goodness.  5-20minutes.  depends on how I feel.
sitting at either my computer or my laptop (in the living room), checking the weather, email, facebook, the interblags, and possibly watching the last Daily Show on hulu.
somewhere near 7a – get dressed.
dental hygiene, hair, make up.
grab lunch, take vitamins (if I remember), pack bag
shoo kittens out of my room, turn off my music, put on shoes
leave for work — 4 El stops.
~8a – Work.  Work. Lunch.  Work.  Interblags.  Work.
~5p – leave work — ride the El with George.  (I do actually look forward to this)
~5:25p – arrive home.
Kittens, foodstuff, interblags, reading, random mild debauchery, maybe a movie…. chaos and whatnot.
turn on music, dental hygiene, change into my peejays, go to bed…
1 hour later… kick kittens out of my bed room
fall asleep.
Weekends…
wake up, See Weekday# 2, 3, get dress about 30-40 minutes later (sometimes longer), 5, 12, 12, 12 (probably with friends), 13, 14, 15
You also have to throw in random things like:
dancing, calling mom, talking with Chrissy, dancing, velociraptor attacks, and lot of randomness with various friends who are awesome, reading band once a month (started by Mucca Pazza), non-profit planning meeting (started by the reading band), more dancing, meandering around the city, and (hopefully) potlucks on sunday*
Yep.  That's pretty much it.
*I've only been to one.  Had a superb time.  Hoping to attend more.